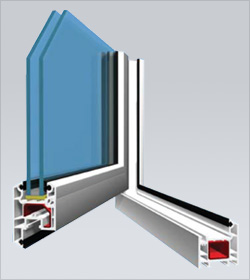 Application
The Soft-line 58 DS is a commercial grade window system that utilizes all the benefits of uPVC while satisfying commercial structural requirements.
With its European engineering, the Soft-line system is among the highest performing windows on the market today. High thermal insulation values lead to cost savings and the reduction of energy use.
58 MM Profile Thickness – Designed for wide spans
Windows are individual items, produced in a technical tradition, adapted to the needs of your building and its architecture. Therefore, GT Eurogroove Windows are available in a wide range of styles and with many optional accessories.
Realize your creativity, you aren't limited: use white or colorful profiles, add distinguishing details like glazing-bars, choose special shapes like round top, circle top, triangle or gable top. Everything is possible! Choose from the many options to complement your individual style.
Colours and Patterns
Mahogany Golden Oak Dark Oak Light Oak
Product Features
1.
Slightly rounded edges give the classical design to the Softline System.
2.
High Thermal Insulation Values up to Uw=1,0 W/m2K (U-Value 0.176 BTU/H*ft2*F, R-Value 5.7) are achievable (depending on glazing) and noticeably reduce energy costs.
3.
High-quality gaskets, are standard in an attractive grey and comprise a system of dual compression-seals that keeps the cold, draft and moisture outside.
4.
Galvanized Steel Reinforcing used according to VEKA fabrication requirements, supports the structural integrity and operational reliability.
5.
3 Chamber Profile with a basic overall depth of 58 mm (2-3/4): is an ideal use of dead airs natural insulating characteristics.
* Optional recessed sash available